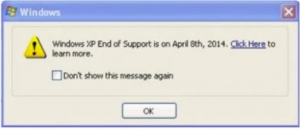 For those people still running Windows XP, you might be aware that Microsoft are ending support for computers running this Operating System with effect from April 8th 2014. You will more than likely get reminders from your computer beginning March 8th telling you that support is ending.
What does this mean?
Firstly it doesn't mean that your computer will stop working. It does however mean that Microsoft will stop providing technical assistance for XP, and this includes the regular updates that are released to prevent you becoming a victim of any security risks such as viruses. With this in mind, there is a high probability that, as there are so many Windows XP machines still being used (29% of all the computers in the world!), those machines will increasingly be targeted by people looking to attack the users of those computers, for whatever reason (some of which may be damaging to you).
How do I know if I'm running Windows XP?
Microsoft have created the Web site http://amirunningxp.com/ – click on this and it'll tell you very clearly if you are running Windows XP.
What should you do?
The chances are that if you are running Windows XP, your machine is relatively old, and incapable of running a newer Operating System without, at best, decreasing performance. So, the likelihood is that you are going to need to replace your existing computer. Before you do this though, I'd strongly recommend you to speak to your IT Support company, or ourselves if you don't already have one, to double check the capability of your existing computer.
What should you upgrade to?
Microsoft would probably tell you to upgrade to Windows 8, but at this stage we strongly recommend Windows 7 as it is a more stable environment that you will most likely find easier to adapt to at this stage.
However, as an Apple Mac specialist I have been migrating PC users to the Apple Mac environment for many years. I find that many Windows users are scared off Apple computers because they are told it's so different, yet my experience is that I've never, yet, moved a Windows user to a Mac that has later gone back to Windows. My personal story is that I came from being a Windows users for many years, and fought the requirement to move to Mac with a previous employer for as long as I could. When I finally gave in to my employers demand, I actually grew to love Mac very quickly, and that has been replicated many, many times with a wide range of clients. Most noticeably my wife, parents, and parents-in-law have all moved to the Mac over recent years and their transition experience has been great.
Summary
I would of course love to see you with a Mac, but equally if its Windows you need, that's what you should get. Speak to your IT company as soon as possible to arrange an upgrade, or at least have a conversation about it. If you don't have an IT company, feel free to give us a call on 01923 555048 for a no-cost discussion on the best way forward for you.
The important point I wanted to get across in this post today, is that you need to act in the next month, or risk becoming the victim of a security flaw.