So in my second post about holiday tech, I wanted to talk specifically about that period of time leading up to departure. This is the time that people tend to get stressed and forget things, but with a little bit of planning you can reduce the chances of landing yourself in hot water with your other half for forgetting that important piece of clothing/album/phone charger/hair product (delete as appropriate).
Checklist
There's a whole heap of ways to replace those handwritten notes that many of us create to remind ourselves of the things we mustn't forget to take or do before we leave. Personally, I use a couple of different tools to try to stop me missing anything.
In terms of actions, everything action I need to remember to do (work and personal) goes into my OmniFocus task list (available for iPhone, iPad and Mac – database can be synchronised across all platforms). OmniFocus is a fantastic app that really comes into its own after reading the noted book "Getting Things Done" by David Allen (available in paperback, and e-book versions on Kindle and iBooks). Until you've read that book or at least a summary of it, a lot of the terminology used in the app will leave you confused, but once you have the background knowledge on David's methodology you'll find OmniFocus a great utility. Until I started using it I was, quite frankly, shocking at remembering to do things (I could remember phone numbers at will, but remembering to do something that didn't excite me, well that was fifty/fifty at best). Anyway, I digress…..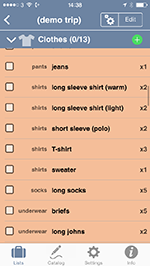 Then there's the lists of 'things'. Packing lists would probably be the main one, but then I guess you could also add pre-holiday shopping (new swimwear, sun tan lotion etc.). I'd typically (if it weren't my wife who did the shopping) add them to OmniFocus, but packing lists are a whole different prospect.
So if you're looking for a great application to use to plan your packing, I can recommend Packing Pro by Quinn Genzel. This app is available for iOS at £1.99 and there's a couple of in-app purchases available (themes and new lists) should you want them. For those that don't use OmniFocus or any other task manager, this app also allows you to set up pre-holiday checklists (and there are some demo trips pre-installed for you to customise) to ensure you don't forget anything essential. But the important function (for me) is your 'packing' – you can make this as detailed as you like (the app even allows you to take photos of items to make sure you're packing the right thing) – and then tick them off as you pack.
Important pre-trip tasks
There's a couple of things I always try to do before leaving the country.
Itinerary
I always try to send a copy of our itinerary to both sides of the family. TripIt and TripDesk make this really easy (as I mentioned in the first blog of this series) if you've added all the appropriate items to your TripIt account (flights, hotels etc are easily added by forwarding the confirmation emails to plans@tripit.com once you have created an account). This way your family always know where to get hold of you if there was a family emergency you needed to be aware of. I wouldn't necessarily pass this information to your boss, unless you really trust them not to disturb you on holiday for anything other than a crisis that only you can help with!
Backups
My favourite subject…..whether you're re taking kit with you, or leaving it behind, I'd advise getting a backup of everything and making sure its stored somewhere safe (i.e. not at home) while you're away. If your Mac or phone gets stolen, lost or broken while you're away, you don't want to be left without all your historical data (photos etc.) Ideally, get more than one copy. I've got a couple of other posts on backups here, here and here that you should read (with a bonus video here).
Media
Whatever kind of holiday you're going on, chances are that you'll be taking a media player of some sort with you. So you need to get your music and movies cued up. If you're flying long-haul you might have access to in-flight entertainment, but you might prefer to watch, listen to or even read something of your own.
Video
Obviously there's iTunes for films and TV shows, but you need to remember that without an active Internet connection you won't be able to purchase or authenticate rented movies (don't be the person who rents a movie on their iPad for the outward flight but can't watch it because he can't authenticate the rental on the plane). With that in mind, if there's something I really want to watch when I'm going to be offline, I buy it in advance, and sync it to the appropriate devices.
That takes care of stuff from iTunes, but what about things like SkyHD and Netflix? Well if you are a Sky subscriber you have the ability to watch SkyGo on two devices (four if you subscribe to SkyGo Extra), which affords you the opportunity to download on demand TV shows and films straight to your chosen device using the available apps (currently free). The same goes for iPlayer, ITV OnDemand and many others. Netflix is similar except you don't have the ability to download, only stream, meaning that you have to have an Internet connection. Another way most of the services are similar is that they are country specific. For example, if you try to access SkyGo/iPlayer/ITV etc while staying in the US, you will likely get an error. With Netflix you'll get a US specific selection of streamable shows (which is often much better than the UK version of Netflix). Want to get around this? For Sky (and Virgin HD) many people choose to use something called a SlingBox, a little device that sits at home between your satellite/cable receiver and the Internet and allows you to stream your own TV signal over the web to anywhere in the world. You get full control of your satellite/cable box, so can switch it over, set up recordings and watch live TV or anything you have already recorded. This is great if you have a decent home connection (and of course an active connection wherever you are) that is stable and fast enough to support it. My preferred option though is to use a monthly service called ProXPN that enables you to trick the rest of the web into thinking you are located in one of 6 countries of your choice (currently, UK, USA, Sweden, Netherlands, Singapore and Czech Republic). In other words, you can be in the USA watching SkyGo or British Netflix, or in the UK watching US Netflix and Hulu (if you had access). It's a great product that also encrypts all your network traffic to stop people watching what you are doing on the Internet (I'm specifically talking about bad guys logging your keystrokes on the Starbucks wireless network, not your wife checking your browser history!!).
Music
It goes without saying that sorting out your music library before departure is a good idea. Making sure that you have all the tunes you want on your phone before getting to the beach to realise that you've only got last year's playlist is essential! With regards to streaming services, I'm not a Spotify user myself, but their Premium service at £9.99 per month also allows you to create offline playlists, which might be useful if you're going somewhere with patchy 3G service (or if the country you're visiting is not covered by your phone's data contract).
Paperwork
Finally, the most important thing is to run through your TripIt schedule, my reference email folders, and Evernote files (see my post on planning) and make sure you have paper copies of all the necessary paperwork. Tickets, booking confirmations, directions, passports etc etc all go into a plastic folder in my hand luggage, and I always make sure we have everything electronically filed in Evernote just in case we have a problem.
It's also worth mentioning at this point that collecting all essential emergency numbers (travel insurers, local doctors, hotel etc) and putting them on a document for easy reference is a very smart move. You never know when you'll need them. Give a copy to everybody in your party to make sure you and they have them to hand should they be needed.
SatNav Preparation
If like us you rent a car on holiday, you'll probably need some guidance with directions. Most car hire companies offer a SatNav for a few pounds a day, but when you compare their charges, you will usually find you can buy your own SatNav app and pay for a meal with the change. In my mind there's no point in having an extra gadget when you have a phone that'll you take almost everywhere with you anyway. If you're going to use your own device, it's a great idea to look at the places you'll be visiting (or at least thinking of visiting) and putting them in as favourites to your SatNav app (or if you're going to use the Siri tip I suggested in last weeks post – bearing in mind that Siri requires an active data connection – you'll need to put the places in as contacts on your iPhone). Trust me, from experience, it's better to put your own places in than rely on POI's (points of interest) in the app – I've never been allowed to forget the two occasions in the States where we ended up in completely the wrong place after I trusted my app of choice with directions (the second time was the day I retired CoPilot and started using TomTom!).
Summary
That covers many of the issues you can address with technology. In the next post in this series I'll cover some essential tech you should take with you, including obvious stuff and some other things you might not have thought of before.
Have a great Monday, I'll be back later in the week.
Links for things mentioned: